Source: www.discovergreece.com


Introduction to Kea Island, Greece
Kea Island in Greece should be on your radar if you're looking for an unforgettable travel destination. With its stunning landscapes, crystal-clear turquoise waters, and rich history, Kea offers a unique and rewarding experience for every type of traveller.
Overview of Kea Island
Known as Tzia to the locals, Kea is one of the Cyclades Islands, just a short ferry ride from Athens. Despite its proximity to the bustling capital city, Kea has maintained its authentic and laid-back charm, making it a hidden gem for locals and international visitors.
Kea Island boasts a diverse range of attractions. Nature lovers will be in awe of the breathtaking beaches, rugged coastlines, and picturesque hiking trails that offer panoramic views of the Aegean Sea. History buffs can explore ancient ruins, visit museums, and discover the island's rich archaeological sites, including the famous Lion of Kea.
The island is also known for its vibrant culinary scene, where you can indulge in fresh seafood, local delicacies, and traditional Greek cuisine at charming seaside tavernas and restaurants. And if you're in the mood for adventure, Kea offers fantastic water sports, boating, and diving opportunities.
How to get to Kea Island
Getting to Kea Island is relatively easy. The most common way to reach the island is by ferry from Athens. The ferry ride takes around one hour and offers beautiful views of the Aegean Sea. Ferries depart regularly from the port of Lavrio, conveniently located about 30 kilometres from Athens International Airport.
Alternatively, you can also take a ferry from other nearby islands, such as Mykonos or Syros, if you're island-hopping in the Cyclades.
Once you arrive on Kea Island, getting around is best done by renting a car, as public transportation options are limited. This allows you to explore all the hidden corners, beautiful beaches, and quaint villages at your own pace.
So, pack your bags and get ready to immerse yourself in the beauty and charm of Kea Island. This little slice of paradise truly has everything from stunning landscapes to rich history and delicious cuisine.
Exploring the Unique Attractions of Kea Island
Are you ready for an unforgettable adventure? Look no further than Kea Island, Greece! From picturesque towns to stunning beaches, this hidden gem has it all.
The picturesque town of Ioulida
The first stop on your Kea Island journey is the charming town of Ioulida. As you walk through the narrow streets, you'll be enchanted by the traditional Greek architecture and vibrant colours that adorn the buildings. Make sure to visit the Archaeological Museum of Kea, where you can learn about the island's fascinating history and culture. And don't forget to stop by the local tavernas and indulge in delicious Greek cuisine.
Exploring the beautiful beaches of Kea
Kea Island is known for its pristine beaches, perfect for sunbathing and swimming. One of the most popular beaches is Koundouros, with crystal-clear waters and sandy shoreline. If you prefer a more secluded spot, head to Spathi Beach, nestled in a picturesque bay surrounded by cliffs. And for adventure seekers, Poles Beach offers a unique experience with its rocky caves and underwater treasures for snorkelling.
Whether you're a history buff exploring the archaeological sites, an outdoor enthusiast hiking the island's trails, or simply seeking relaxation on sun-soaked beaches, Kea Island has something for everyone. Immerse yourself in the local culture, connect with friendly locals, and indulge in delectable Greek cuisine.
So pack your bags and get ready for an unforgettable experience on Kea Island, Greece. This hidden paradise awaits your discovery.
Must-Visit Historical Sites on Kea Island
Archaeological site of Karthea
If you're a history enthusiast, visiting the archaeological site of Karthea is a must. Located on the eastern coast of Kea Island, this ancient city was once a thriving hub of trade and culture. As you explore the ruins, you'll be transported back to the 6th century BC when Karthea flourished under the rule of the Athenians. Marvel at the well-preserved temples, including the Temple of Apollo and Athena. Don't forget to take in the breathtaking views of the Aegean Sea from this hilltop site.
Discovering the ancient capital of Kea, Korissia
Korissia, the ancient capital of Kea Island, is another historical gem waiting to be explored. Start your journey at the Archaeological Museum, where you can learn about the island's rich history through its artefacts and exhibits. From there, venture out to discover the ancient city walls, which once protected the inhabitants from invasions. As you stroll through the narrow streets of Korissia, you'll encounter remnants of ancient houses and the impressive Byzantine Panagia Kastriani Church. Don't miss the opportunity to visit the ancient port, where you can watch fishermen at work and enjoy the picturesque scenery.
Kea Island uniquely blends history, culture, and natural beauty. Take the time to immerse yourself in the rich history of this enchanting destination by exploring its must-visit historical sites. Whether you're fascinated by ancient civilizations or appreciate the beauty of well-preserved ruins, visiting Karthea and Korissia will surely leave you with lasting memories.
Experiencing the Local Cuisine and Culture of Kea Island
Are you ready for an unforgettable vacation with mouthwatering food and vibrant cultural experiences? Look no further than the stunning Kea Island in Greece! Nestled in the Aegean Sea, this hidden gem perfectly blends stunning natural beauty and rich traditions. So, get your taste buds ready and immerse yourself in the local cuisine and culture of Kea Island.
Delicious traditional dishes of Kea
Indulge in the authentic flavours of Kea by trying their traditional dishes. From fresh seafood to delectable meat dishes, Kea Island has something for every food lover. Must-tries include "paspalas," a unique pork dish cooked with onions and wine, and "louza," a local speciality made from locally sourced pork marinated with herbs and spices. The island is also known for its mouthwatering cheeses and divine desserts like "amygdalota," almond-based sweet treats that are impossible to resist.
Participating in local festivals and events
To truly immerse yourself in the culture of Kea, participate in the island's vibrant festivals and events. Experience the joyous atmosphere of the Panigiria, traditional festivals that take place throughout the year. Dance to live music, witness traditional Greek dances and enjoy the warm hospitality of the locals. The Carnival of Kea is another highlight, where locals dress in colourful costumes and celebrate with parades, music, and dancing.
Throughout the year, Kea Island hosts various cultural events, such as art exhibitions, theatre performances, and music concerts. These events provide an opportunity to mingle with locals and gain insight into the island's rich cultural heritage.
Whether you are a food lover or a culture enthusiast, Kea Island captivates your senses and leaves you with unforgettable memories. So, pack your bags and get ready to savour the delicious dishes and immerse yourself in the vibrant culture of this enchanting Greek island.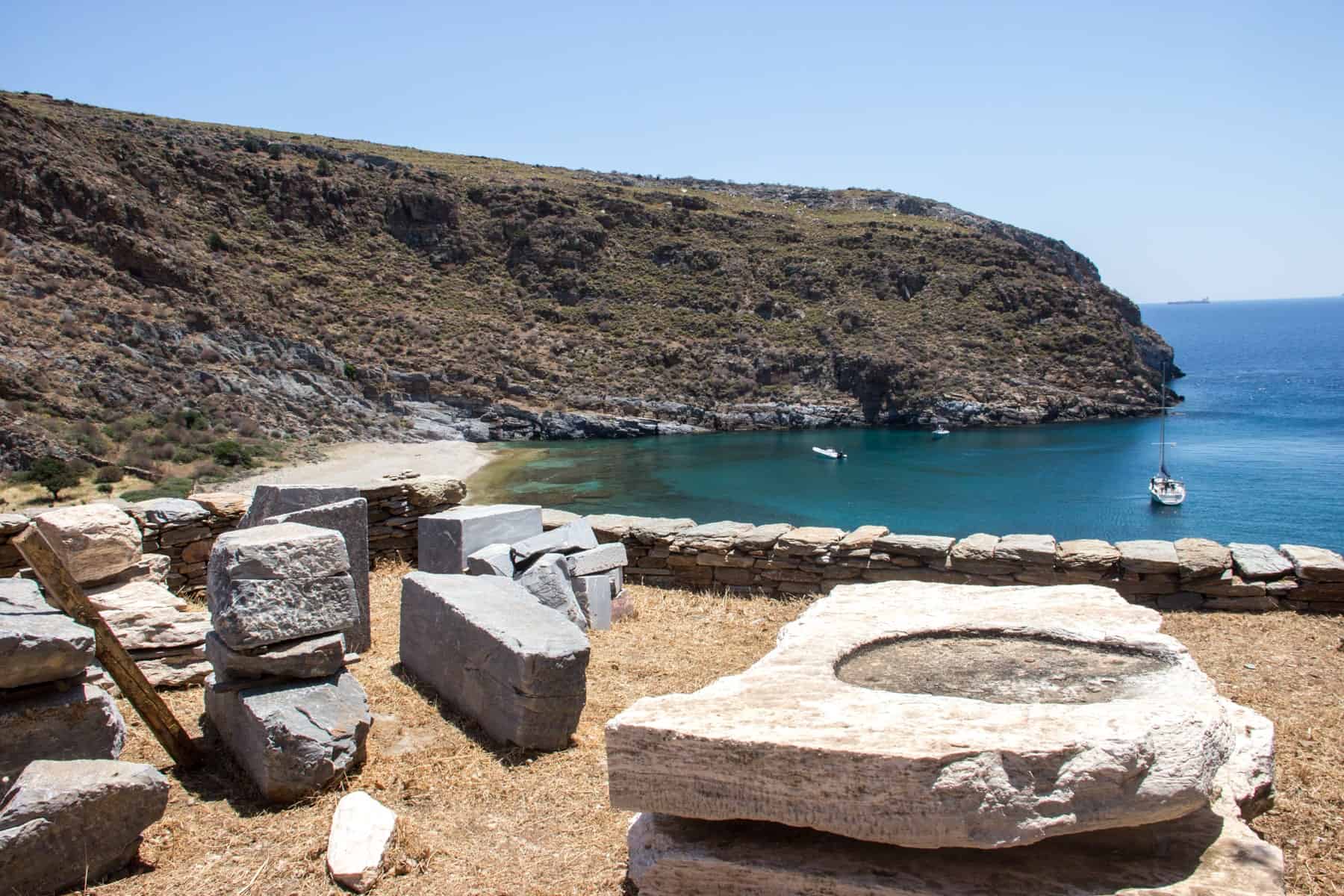 Outdoor Activities and Adventures in Kea Island
Hiking and trekking in the stunning nature of Kea
If you are an outdoor enthusiast, Kea Island is the perfect destination. With its rugged terrain and breathtaking landscapes, the island offers many hiking and trekking trails that will leave you in awe. Lace up your hiking boots and explore the stunning nature of Kea.
One of the most popular trails is the hike to the ancient city of Karthea. As you go through the path, you will be surrounded by stunning views of the Aegean Sea and the island's lush vegetation. Explore the ancient ruins and marvel at the history of this once-thriving city.
For those seeking a more challenging trek, head to the mountainous region of Profitis Ilias. This hike will take you to the highest peak of Kea, offering panoramic views of the island and the surrounding sea. Be prepared for steep inclines and rocky terrain, but the rewarding vistas make it all worth it.
Enjoying water sports and sailing in the crystal-clear waters
Kea Island is a paradise for water sports enthusiasts. With its crystal-clear waters and favourable wind conditions, you can indulge in various activities to pump your adrenaline. Whether you are a beginner or an experienced sailor, everyone has options.
Try your hand at windsurfing or kitesurfing on the beautiful beaches of Kea. Feel the wind in your hair as you glide across the clear turquoise waters. If you prefer a more relaxed experience, grab a paddleboard and explore the coastline at your own pace.
For those who want to explore the underwater world, Kea offers excellent opportunities for snorkelling and scuba diving. Dive into the depths and discover a diverse marine ecosystem teeming with colourful fish and mesmerizing coral reefs.
Whether you prefer to explore the stunning nature on land or engage in exciting water sports, Kea Island has it all. Pack your bags, prepare for an adventure, and immerse yourself in the beauty of this Greek paradise.
Accommodation Options on Kea Island
Luxurious hotels and resorts in Kea
If you're looking for a luxurious and indulgent experience during your stay in Kea Island, several options will cater to your every need. From breathtaking views of the Aegean Sea to impeccable service, these hotels and resorts will make your stay truly memorable.
One of Kea's top choices for luxury accommodations is the Aegon Mykonos. This five-star hotel offers stylish and spacious rooms, a stunning infinity pool overlooking the sea, and a private beach for the ultimate relaxation. The hotel also features a spa and wellness centre, fine dining options, and impeccable service to ensure a luxurious and pampering stay.
Another highly recommended option is the Porto Kea Suites. Situated in a serene location with panoramic sea views, this boutique hotel offers elegantly designed suites, a beautiful pool area surrounded by gardens, and a private beach. Guests can enjoy delicious Mediterranean cuisine at the hotel's restaurant and unwind at the spa and wellness centre.
Budget-friendly accommodations and guesthouses
Suppose you travel on a budget or prefer a more authentic and intimate experience. In that case, Kea Island has a range of budget-friendly accommodations and guesthouses that will provide comfort and charm without breaking the bank.
One option is the Kea Village Guesthouse, located in the picturesque village of Ioulida. This family-run guesthouse offers cosy rooms with traditional décor, a peaceful courtyard, and a homemade breakfast. It is the perfect choice for travellers seeking an authentic Greek experience in a charming setting.
The Blue Studios and Apartments are a great choice for those who prefer a self-catering option. These spacious and fully equipped studios and apartments are located in the tranquil Vourkari area, close to the beach and the popular seaside tavernas. Guests can enjoy the convenience of a kitchenette and a private balcony or patio.
No matter your budget or preferences, Kea Island offers a range of accommodation options to suit every traveller. From luxurious hotels with breathtaking views to budget-friendly guesthouses with authentic charm, you're sure to find the perfect place to stay during your visit to this beautiful Greek island.
Practical Tips for Visiting Kea Island
The best time to visit Kea
If you're planning a trip to Kea Island, Greece, timing is everything! The best time to visit Kea is during the summer months of June to September. The weather is warm and sunny during this time, making it perfect for exploring beaches, hiking trails, and enjoying outdoor activities. The island comes alive with festivals, events, and a vibrant nightlife, ensuring something exciting is always happening. However, if you prefer a more peaceful and quieter experience, consider visiting during the shoulder seasons of April to May and September to October. During these months, the weather is still pleasant, and you can avoid the crowds that come with peak season.
Transportation and getting around the island
Getting to and around Kea Island is relatively easy. The island is accessible by ferry from the port of Lavrio, just a short drive from Athens International Airport. The ferry ride takes approximately one hour, and there are frequent departures throughout the day. Once you arrive on the island, several transportation options are available to explore its beauty. Renting a car is popular, as it allows you to discover Kea at your own pace. Alternatively, you can rent scooters or bicycles if you prefer a more eco-friendly way of getting around. Kea is a small island, and most attractions are within a short distance of each other, making it easy to navigate and explore on foot. Public transportation is limited, so it's recommended to plan your itinerary and arrange a means of transportation to enjoy your time on the island fully.
Whether you're seeking adventure, relaxation, or a cultural experience, Kea Island has something for everyone. By following these practical tips, you can make the most of your visit and create unforgettable memories on this beautiful Greek island.
Useful resources for planning your trip to Kea
Now that you're eager to visit Kea, here are some useful resources to help you plan your trip and make the most of your time on the island:
Tourist Information: The official website of the Kea Municipality has detailed information about attractions, accommodations, events, and more. You can find it at [insert website link].

Accommodations: There are plenty of options for accommodations on Kea, ranging from luxury hotels to charming guesthouses and villas. Websites like [insert accommodation booking website link] can help you find the perfect place to stay.

Transportation: Getting to Kea is easy. You can take a ferry from Lavrio, a short drive from Athens. The ferry journey takes about an hour and a half. Check out [insert ferry company website link] for information on ferry schedules and tickets.

Activities and Attractions: From exploring ancient ruins to hiking scenic trails and enjoying water sports, Kea offers a wide range of activities for outdoor enthusiasts. The website [insert Kea tourism website link] provides detailed information on things to do and see on the island.

Local Cuisine: Don't forget to indulge in the delicious local cuisine while visiting Kea. The island has a vibrant food scene, from fresh seafood to traditional Greek dishes. Check out local restaurants and taverns to savour the flavours of Kea.
With these resources, you'll be well-prepared to embark on an unforgettable journey to Kea Island. So start planning your trip and prepare to create lasting memories in this hidden gem of Greece.