The Step-by-Step Guide to Building a Modular Home
Oct 19
If you're like most people who build a new home, you want to know how it all comes together. However, with so many moving parts it can be challenging to get your head around what happens when and even where to start.
Understanding how the design and build process works, helps you with your planning and makes building a new home less stressful and more enjoyable. So, to give you a clear picture of the steps involved in designing and building a modular home, we've put together this handy step-by-step overview.
Preliminary stage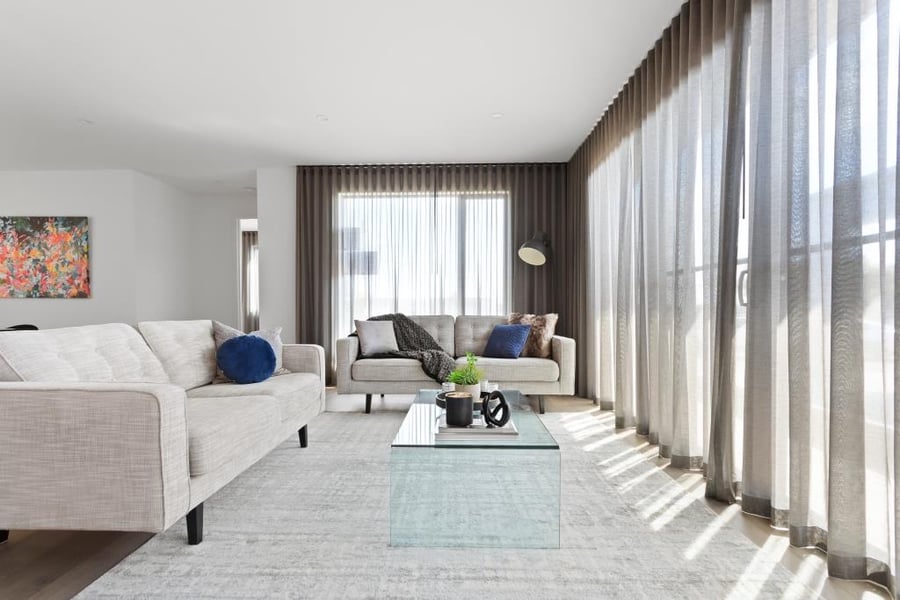 Hampton 14, Bayswater display centre
Step 1: Consultation and advice
The first step is to contact our Project Consultants, by phoning the office, submitting an online enquiry, or if possible, visiting one of our display centres. We'll discuss your design ideas and requirements and suggest some potential designs that would be a good fit. If a custom design is more suitable, we'll discuss possible layouts and siting. From this, our team will have a good understanding of your needs and priorities when it comes to designs, timing and your budget. We'll also perform a desktop assessment of your site, to be sure it's suitable for a modular home. If needed, we'll visit the site in person to get the information we need.
Cost: Complimentary
Time: 30 mins–1 hour
Step 2: Project proposal
Our Project Consultant will create a detailed brief based on the initial discussion, and will prepare a Project Proposal that outlines the estimated costs for your project, including construction of your chosen design, additional options and upgrades and pre-construction fees. We'll do our best to be as detailed as possible, however at this stage some items may remain provisional, subject to site engineering reports, structural engineering and project specifications.
Cost: Complimentary
Time: 48 hours
Pre-construction
Step 3: Design and site engineering
Your project will now be managed by our Pre-Construction Coordinator who will be with you to tick off all the boxes needed to get your design ready and approved for construction. First, a detailed design brief will be prepared and our Architectural Designers will start drafting your Preliminary Drawings. Geotechnical Engineers and Land Surveyors will complete the required site assessments including a Soil Test, Wind Rating, Bushfire Attack Level (BAL) Rating and a Site Feature Survey, and the details will be added to your drawings and reports compiled, ready for submission to Council.
Cost: $8,000–$12,000
Time: 8–12 weeks
Step 4: Council permits (if required)
If you require a planning permit, we can take care of this for you, including any supplementary reports that need to accompany the application. Depending on your location and the features of your block, this may include a Land Capability Assessment (LCA), Bushfire Management Statement and Plan (BMS/P), Landslip Risk Assessment and Arborist Report. 
Cost: $4,000–$10,000
Time: 12–24 weeks, depending on the council
Step 5: Specification selection and documentation
While your planning application is processing, it's time to make your colour and specifications selections. You'll meet with our designer who can make recommendations on the best options for your style and budget to help you bring it all together. From there, we'll prepare a detailed schedule, and once approved, our designers will draft the full Construction Drawings and obtain structural engineering (if required) as well as the (minimum) 6-star Energy Rating.
Cost: Nil. Included in initial Pre-Construction fee
Structural engineering (if required): $1,500–$3,000
Time: 4–8 weeks (unless running concurrently with Town Planning)
Step 6: Contract
With the Specification Schedule and Construction Drawings now finalised, our estimator will prepare a detailed Contract Costing Breakdown and a Master Builder's fixed-price contract for your approval. Once signed, it's time to pay your deposit and move to the Construction stage!
Cost: 5% of contract sum (deposit)
Time: 2–3 weeks
Construction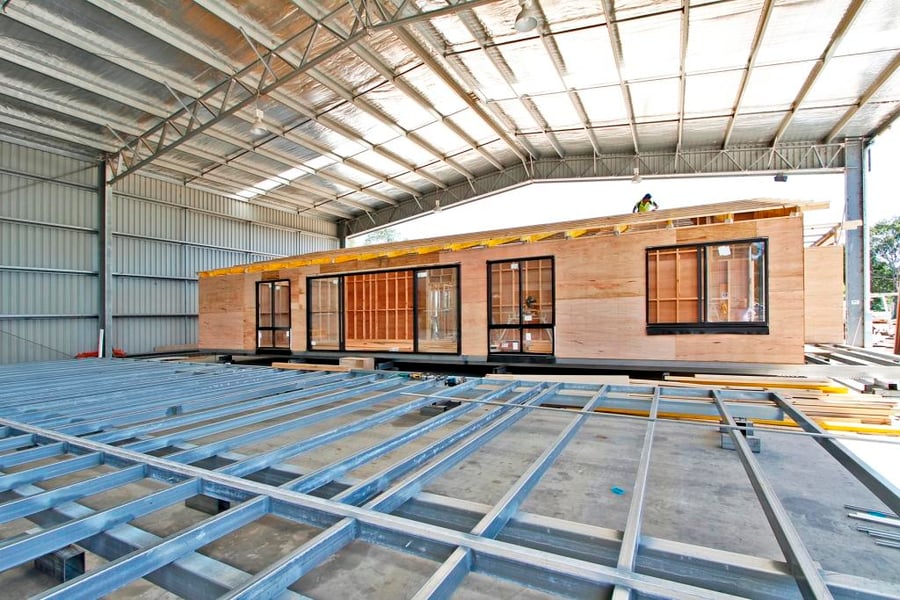 Step 7: Building permit
Before building can begin you'll need a Building Permit, and our team will arrange this. If your project includes a septic system, a council permit to install is needed first, and we'll take care of this as well.
Cost: Nil. Included in the 5% deposit.
Time: 4–6 weeks
Step 8: Construction
We've now reached the exciting part where construction commences on your new home. Throughout the build your Project Manager will keep you up to date on the progress and you are welcome to visit to check in and see your new home coming together. There are three main stages of the build as follows:
Frame stage: First, we fabricate the steel base frame, plus any other steel components in the wall and roof. Our carpenters will then install the particle board flooring, build the timber wall and roof structure and brace the frame ready for the lock-up stage. At this point, a Building Inspector will inspect the frame.


Lock-up stage: The roofing, guttering, external cladding, windows and doors are installed, and decking is installed onto prefabricated steel frames. Our electrical and plumbing contractors will run their wiring too, ready for the fixing stage.


Fixing stage: The plastering team install the plaster and cornice, and the carpenters fit the architraves, skirtings and internal doors. The cabinet makers install the cabinetry including the kitchen, laundry cupboards, wardrobe shelving and vanities. Tilers lay and grout the tiles, plumbers install baths, sinks and other installations, and electricians fit-off light switches, powerpoints and light fixtures. Lastly, the flooring is installed, and your home is ready for delivery.
A few weeks before your home is delivered, our site team will complete all of the site preparation work, including excavation, foundations and retaining walls, so your site is ready for installation on delivery day.
Cost:
20% of contract sum at Frame Stage
25% of contract sum at Lock-Up Stage
40% of contract sum at Fixing Stage
Time: 8–10 weeks
Step 9: Delivery, installation and site fit-off
Your home will travel in modules carried by truck to your site, and delivery can take 1–3 days depending on your location. Once your home arrives, it is re-assembled within one day. The site team then complete the finishing touches, including plastering and painting, installation of the sub-floor cladding, commission of the electrical and plumbing infrastructure, stairs and balustrade, connection to services, and construction of the garage or carport (if included).
Cost: 10% of contract sum at completion
Time: 6–10 weeks
Step 10: Handover
With the site works complete, it's time to inspect your new home with the Site Supervisor. The Building Surveyor will also complete a final inspection, before issuing a Certificate of Occupancy. Your new home is now ready to enjoy!
Build a beautiful new home in 10 simple steps
Building a new home doesn't have to be difficult or take an eternity. When you choose to build with us, our team will guide you through the process step-by-step, keeping your project on time and on budget. 
So if you're ready to find out more, take the first step and get in touch with our team today!